Writing your own vows can feel overwhelming.
How do you put years of love, stories and memories alongside future promises, dreams and plans and sum it all up in a short few minutes. 
As overwhelming as it can feel, it's well worth it. It's a chance for you to put in your own words what it means to be standing there on the day. 
It's a chance to tell your story, give guests a peek into what makes your relationship tick, and share meaningful words with the person you love.
Of everything that I say on your wedding day, the words you say are the most important of the entire ceremony. 
So where do you start?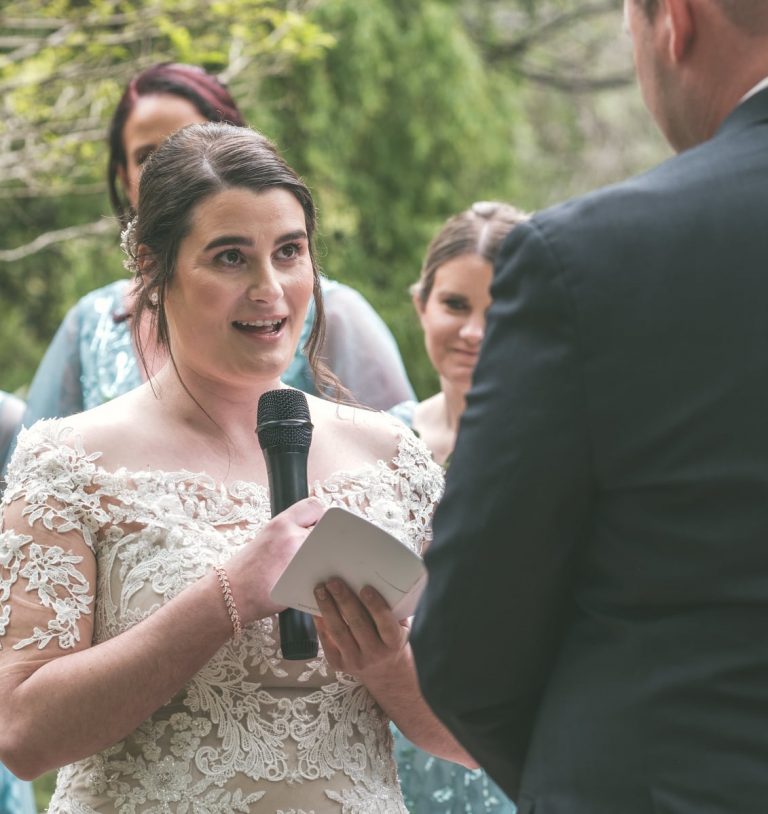 Start with a statement about who this person is to you. Your best friend, your lover, your partner in crime, or your everything.


Continue by saying what it is you love about your partner. What about this person has led you to promise forever? When did you realize you were in love? What do you miss when you're not around each other? Jotting down all of your ideas and each of things you love about this person can make it easier to get your thoughts together, find a theme and focus in on a few items that really stand out. Don't worry about saying every little thing, if you were to do that your ceremony would go on forever.


Share personal stories. It's so much more interesting for your friends or family to hear about your odd quirks and personal moments—and don't be afraid to talk about the highs and the lows. Many people make the mistake of thinking that vows are only about the highs in your relationship, but guests (and your significant other) want to hear vows that are real. If you've been through bumpy spots…you should express that.


Lay out exactly what it is you are promising. Make promises to your partner and vow to stick to them. Such as, "I vow to always support you," or "I promise to never steal the covers unless, you're hogging them." Mention specific ways you will show your love— in romantic ways, funny ways and ways only the two of you could understand. 


Use funny wedding vows to personalize your promise. Your wedding day will be one of the happiest days of your life. Add humor to your wedding vows so they stay true to the two of you.


Mention specific things the two of you will do together. Continue this portion of your vows by mentioning the specific things you will accomplish together. Using phrases like: "With you," "I will," and "Together."


Don't forget to add that you'll be there even when times get rough. Reassure your partner that this is for better or for worse, in sickness and in health.


Wrap your vows up with a look towards the future. Think about your goals, aspirations and future. Will your love help you through the home remodel? How will your love set the tone for the way you raise your family? What are you looking forward to sharing with this special person.



Voice admiration.
You've gathered your most beloved friends and family to celebrate your marriage—now is the time to get a little sappy and gush about your partner publicly.



Make sure to say "I love you." This seems like a no-brainer, but we are often shocked at how many couples leave those three little words out of their vows
In you I found a partner in life, a lover, a friend, a safe place, someone I can be my ugliest and most vulnerable with. In you I found someone who supports me, who inspires me, who respects and honors me.
With you, I know I will never have to do anything on my own.
I knew you were "the one" when I realized that you truly are a better person than me. I admire you and look up to you for all the good you bring to this great big world. 
Thank you for loving my fun, crazy, loud, Italian family, as much as I do. I promise to encourage you to follow your dreams. I promise to continue to challenge you to be the best version of yourself. I promise to make you laugh, when you're taking life too seriously. I promise to love you unconditionally. I promise to put you first and never lose our spark. I promise to never stop singing my own made-up songs, although I know you wish I would.
Our journey as a family has only just begun and I can't wait to see what the future holds for us. You are the person I choose to spend forever with, as my true soulmate. I chose you in 2018, I choose you today, and I will continue choosing you forever. I love you.
 I call you 'My Megan' because you are my everything. You are my light, and you've shown me more love than I've ever known.
I was drawn to you from the day we met. Your warm and inviting eyes and your magnetic smile softened my tough façade immediately. I remember wanting to have, and sometimes make, reasons to talk to you. To see you beam that amazing smile back at me, immediately putting me at ease and brightening my day. I love that we started out as friends.
I'm so grateful for our special brand of weird. To me, it means more than just being silly. It signifies a special, profound, unfettered love for each other. It's loving each other at our most intimate, vulnerable times. It colors our tapestry with yet unnamed, exotic colors, known only to the two of us.
I promise to challenge you and to accept challenges from you. I promise to love you in good times and in bad.
I swear to you that I will continue to dedicate all the days of my life to filling our days with beauty and laughter. I will celebrate your spirit and all of your accomplishments, work to inspire you, and be here to remind you of your beauty and strength. You are my partner, my confidant, my other half, and I will love you for the rest of my life.
I am not only looking forward, but am anxious, to continue on our many adventures and excursions together…. Exploring the best national parks on this continent, traversing the globe, playing golf and pickup field hockey, long-boarding along the beach, attending ice hockey games and concerts that range from heavy metal to Lady Gaga, and most importantly, building a home and a family with you in close proximity to a large body of water.
I promise to make you smile as much as you make me smile, even if that means I have to watch a bit less football or 'soccer.' I also promise to pretend not to be annoyed when I find giant mounds of hair in the most unlikely place after one of your giant detangling sessions, or just simply finding smaller ones that have broken free on their own literally everywhere.
You came into my life at exactly the right time: when I wasn't ready, and yet, when I needed your love the most.
I promise to take care of you even when you get food poisoning on New Year's Eve. I promise I will unclog the shower even though only one of us has long hair. 
I promise, from this day forward, to live my life as a member of a band, and not a solo artist.
I promise to always tell you "it will be the Warriors year" even though it probably won't be